About Us
Hello, my name is Martyn and I live in Leicester, in the UK, with my wife Teresa, and our 2 daughters, Hannah and Ellie, and a dog called Max. Ellie was born in 1997 and at about the age of 5 weeks started having seizures. She subsequently developed severe learning difficulties with developmental delay. In 2010, at the age of 13, she was diagnosed with the rare genetic condition CDKL5.
I have developed this Supporting CDKL5 website to raise awareness of CDKL5 in the UK, to help provide information to other families who have children with CDKL5 and hopefully encourage and facilitate fund-raising events to support research into CDKL5.
When Ellie was first diagnosed, we found it very difficult to find and collate information about the different aspects of the condition. On this website, therefore, as well as our own story, from when we first became aware of Ellie's potential disability up to where we are at the present time, you will also find information about the science behind CDKL5 as well as reviews of past and current research.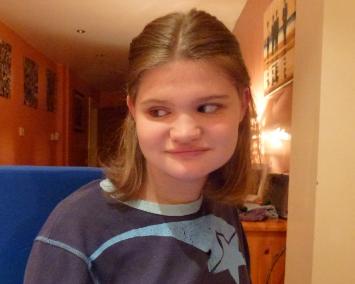 What is CDKL5?
A CDKL5 disorder is a rare genetic condition that mainly affects girls. It is caused by defects in a protein, called CDKL5, which occur due to mutations in its gene located on the X-chromosome. It is not known what the protein does, although research is starting to provide some answers and probably more questions. The CDKL5 gene and its protein obviously have an important role in early brain development.
What we do know is that as result of mutations in this gene, affected children begin to suffer epileptic seizures, usually in their first few weeks or months of life. They subsequently have severe developmental delay, do not usually develop the ability to walk or talk, and are completely dependent for their needs. In addition, they commonly suffer a number of other problems including, visual impairment, reflux (often requiring surgery) and musculo-skeletal problems. In Ellie, we have also seen wild mood swings, where she can go from being manically happy to miserably grumpy or cross. She also has a very erratic sleep pattern, which we assume is due to her epilepsy.
CDKL5 is a distinct condition in its own right...
Neurodevelopmental delay due to mutations in the CDKL5 gene were only first identified in 2004. Prior to that children were thought to have a variation of another condition, called Rett Syndrome, that has similar features. However, it is now clear that CDKL5 is a distinct clinical condition. There are currently thought to be over 1200 children in the world who are known to have a CDKL5 disorder and about 50 to 60 of these are in the UK. Given that there are about 60 million people in the UK, you could say that Ellie is one in a million.
Hello, my name is Eleanor but everyone calls me Ellie. Although I am now grown up you wouldn't think that if you met me. I seemed fine when I was born and my mum and dad were amazed to have a "quiet" baby, as my sister, who is two years older than me, screamed for the first few months of life. Little did they know just what I had in store for them!!!!
My dad got a job in Australia and we were due to go when I was about 10 weeks old. We were all looking forward to going and quite excited despite the upheaval. Then in the middle of it all, I decided to throw a spanner in the works and have my first seizure. I was 5 weeks old. Mum and dad had me checked at the local hospital and it soon became obvious that I needed more investigations and so we were sent to Shrewsbury Hospital, where I had been born. Mum and I stayed in hospital. My aunty Margaret came to look after Hannah. And I began having lots and lots of tests and investigations. And do you know what? They couldn't find out what was wrong with me. And that's because CDKL5 was yet to be discovered.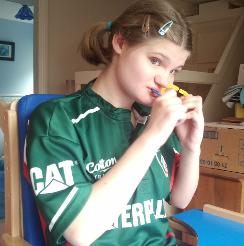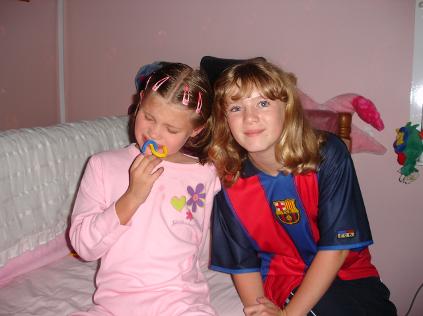 We did go to Australia, after a lot of hassle to get my visa and insurance. I just kept on having seizure after seizure and nothing seemed to help. I didn't progress like other children, never reached any milestones but mum and dad didn't give up on me and tried everything to get me to fulfil my potential. We came back to the UK when I was 15 months old. By now I was very delayed in my development. I was very floppy, couldn't sit independently, couldn't hold a beaker, make any attempt to crawl and had problems with my vision. I didn't sleep at night, I screamed a lot of the time, had reflux so my mum constantly smelt of baby vomit (nice!) and despite lots of research , they couldn't find out what was wrong with me. My seizures were changing all the time and there was a thought that if my seizures were better controlled, I may make better progress with my development. But none of that happened despite trying the latest drugs, Steroid therapy, the Ketogenic diet and alternative therapies. In short mum and dad tried everything whilst trying to give Hannah some sort of "normal" life.
Then we were asked to take part in some research based in Cardiff about girls like me who didn't have a diagnosis. But again, nothing, I didn't have the genetic defect they were looking for. Another dead end. By now I was about 10 and mum and dad resigned themselves to the fact that they may never know why I was me. There didn't seem to be anyone around like me so mum used to say I must have "Ellie's Syndrome!!!"
Then by chance they heard of a little girl, much younger than me, who was attending the Special Nursery I used to go to and she was just like me!!!! And when mum met her dad and they had a chat it turned out that she had a diagnosis of CDKL5! Mum got very excited and was on the case straightaway. It turned out that I had already been tested for this, in the Cardiff Research Project. NEGATIVE. Another dead end.
Despite this Mum joined the CDKL5 internet group and was warmly welcomed, even though I didn't have the diagnosis. Reading other families accounts and experiences was like reliving my early years. Through this, we heard of other girls who had had negative tests, then some time later were informed that they were positive. It didn't seem to make much sense? So mum went, armed with lots of information, to my next Neurological appointment and my Consultant agreed to a retest.
And YES I do have CDKL5. It turns out that I have a deletion of Exon 5 (!?!). Sounds really odd to want to shout about it, but I was nearly 14 years old and seemed to have been lost in the system. Advancements in testing gave my mum and dad an answer. It doesn't change me, but it provides mum and dad with answers to some of their questions and contact with other families who are in a similar position to us.
So that's me in a nutshell. I'm now grown up - yes really!!!! I still can't do things that my peers do but hey-ho that's life. Mum and dad (and big sister Hannah) try to make sure I don't miss out too much. I love being outside on my swing, the higher the better! I love my food even though I don't always keep it down, despite having my tummy operated on. I love being in the hydrotherapy pool at school. I love rough play and being tickled and have an infectious giggle. I am very loud for someone who doesn't talk, but no one minds really, even if I am yelling the place down. And if they do, then that's their problem, after all, I can't let my big sister get all the credit for attitude!!!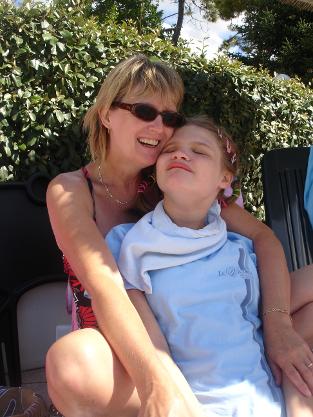 So..."keep facing the sun and the shadows of life will
fall behind you." Ellie
xxx
Supporting CDKL5 research through CDKL5 UK
Supporting CDKL5 is not a charity, nor are we seeking donations for ourselves. However, in 2012, a new charity, CDKL5 UK (registered charity number 1149099) was founded of which I am a trustee. CDKL5 UK was set up to support families with children who have a CDKL5 disorder, and to raise funds for research.
I have set up a JustGiving page that will donate directly to CDKL5 UK. Therefore, if anyone is planning to be involved in a fund-raising event and is looking for a charity to support, then we would ask that you consider supporting CDKL5 UK.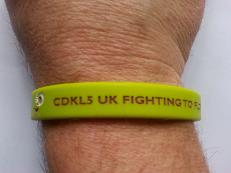 Contact
If you require further information , you can contact me via email or on twitter at @docnewey
Most of the information here can be found by surfing the net - I have tried to collate the relevant bits into this one site. I have also tried to make the science (as far as I can understand it) as easy to read and as accurate as possible. If you think there are mistakes or you don't understand something, then please contact me. If you do have concerns about your own child or relative, then you should contact your own family doctor (that's my medical disclaimer bit !).