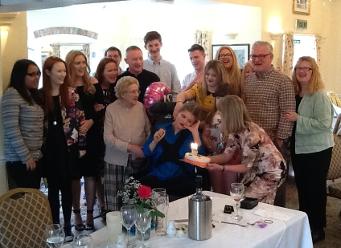 5th April 2015
So my birthday week - as I seem to be having - continued. Actually, today was Easter Sunday which is always a good excuse to get together. But, because it was also close to my birthday we had an even better excuse..
This is me with all my mum's family. My nanna is standing next to me with all my aunties and uncles and cousins (and friends) around me. Everyone was really happy - even my dad which is a bit of a surprise as he was only drinking diet coke..
When we got home mum did give me a sip of something called champagne which tickled my nose and made me giggle. Happy Easter everybody....
31st March 2015
So, today was my birthday ...... again..!!! I am now 18 years old and apparently that's a very important birthday, which means I must be a very important person ..... so there !!
Mum and dad took me away to a nice holiday park where they had something called a hot tub which I could splash around in each day - that was fun.
Then, on my birthday I was given a nice cake with lots of candles on. This is me with mum and dad just before it all got very exciting when there was a sudden loud beeping sound. Someone said something about a smoke alarm going off because the candles were catching fire and my big sister Hannah had to rush round opening all the doors and windows. Life is never dull when I am around.....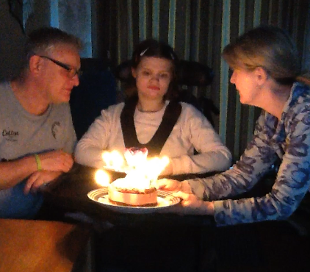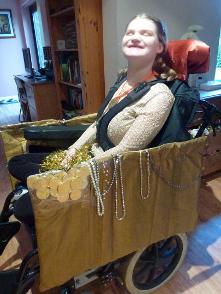 5th March 2015
Well, today was World Book Day again - and we all went to school dressed as a character from a book. Just to be different - because I quite like being different - I went as the .... Treasure Chest from Treasure Island.
Yep, here I am in my own little treasure chest. surrounded by lots of treasure. Now, you might think it looks a bit like my wheelchair but really if you use your imagination it really is a treasure chest and I am the little jewel in the middle.. So pieces of eight, pieces of eight...and "arr Jim lad" ... just practising...!
25th December 2014
Hello everybody, and yes yippee it's Christmas again. This year mum and dad took me to see my nanna. My big sister, Hannah, was already there as she is at university there.
Now, my mum has lots of sisters and they all turned up as well. So we had a big party and ate lots of food.
After dinner, everyone played games although I actually just sat on the settee rocking as hard as I could because I was so happy. Dad did get a little hot and bothered holding on to me, but hey-ho that's what dad's must be for and after all it is Christmas ... This is me with Melissa, my big cousin, and as you can see I was having a very jolly nice time and feeling very happy to be with my family.
Merry Christmas everyone....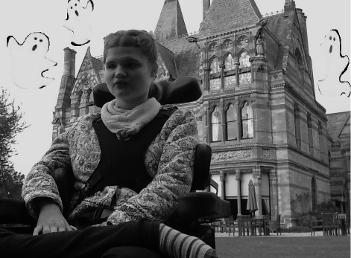 October 2014
Well it was half-term, so mum and dad took me to a hotel where they had a nice warm pool for me to splash around in. Unfortunately I was a bit grumpy so I think I made more noise than splash..
What mum and dad hadn't realised was that the hotel we went to was supposed to be one of the most haunted in England. It was called Ettington Park Hotel, and they even used it for a scary movie called The Haunting.... Mum and dad didn't actually know this when they looked around the chapel in the dark ... and there were even people buried in there ... whoooooooh.. It has to be said that dad does look a bit greyer now!
Still, for anybody there who heard lots of loud, high pitched screeching ... it was probably me, and I ain't afraid of no ghosts so there ... not that we actually saw any. ... hmmm .....
27th September 2014
Mum did something called the Moonlight Walk round a town called Loughborough which is not far from where I live. The walk was in support of Rainbows Hospice, which is where I go to have a break from mum and dad every now and then.
The walk started at 10 o'clock at night and they were supposed to walk 5 miles. Unfortunately, mum got a little lost (nothing new there - ha!!) and probably ended up walking twice as far although it only took her about 2 and a half hours - so she says...!
Anyway, this is mum (big glasses and pink hat) with her friends Barbara and Jackie. Mum raised over £250 for Rainbows. Thanks mum and thanks everybody who sponsored her..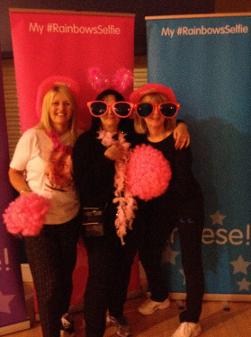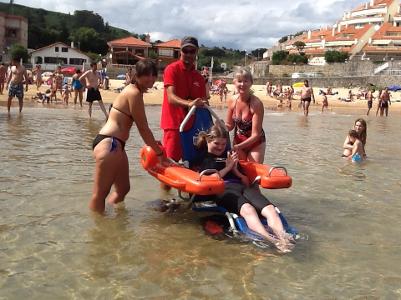 29 July 2014
Ellie went to sea, sea, sea, to see what she could see, see, see. And all that she could see, see, see... oh blow that.. here I am again on my hols with mum and dad. This year, we went to Isla in North Spain on a big boat which sailed across something called the Bay of Biscay. I make that point simply because dad wasn't sick once for a change ... so good for him.
Anyway, last year on my holidays I was able to go onto the beach in a special beach chair. This year, we found that they had a special sea chair and here I am ... in the sea - yippee...! Mum says this is the first time for about 10 years.
This is me having a jolly good splash around in the sea with mum, Carmen and Kiko, the life-guard who looked after me. Carmen was really very nice to me and I want to send her a great big thank you .... so THANK YOU Carmen for helping me have a splash in the sea...
June - July 2014
You know .... I'm really lucky to have such nice friends that do lots of things for my charity. On the 21 June, Karl ran another one of those muddy runny obstacle things and raised nearly £150 for CDKL5 UK. Then, 2 weeks later, Rachel jumped out of an airplane ... yes jumped .. and landed safely, raising over £800.
As you can see from these photos, Karl was wearing one of our special tough green t-shirts, while Rachel seems to be wearing a man ... hmmm, not sure about that - think I prefer the t-shirt. Oh well, a big thanks to both of them from mum, dad and Hannah, and lots of the usual raspberries from me..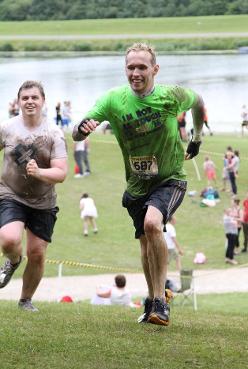 24 - 26 June 2014
Well, as you can see, I had a bit of a sporty week. First of all, I went with some of my school friends to have a look round at the Leicester Tigers Rugby ground. I was given this really big silver cup to hold - a bit too big to try and chew although the opportunity would have been nice. It was the cup that they won last year - apparently some team called Northampton Saints won it this year which might explain why I saw dad crying into his beer one afternoon...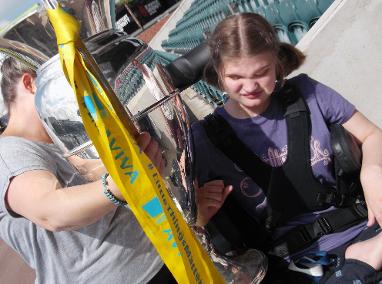 ..... and then I went on this football coaching course which as far as I'm concerned makes me a top coach.... and judging by what's been happening in Brazil, I might actually be up for a job soon .... so come on Scotland ... ha, ha just joking mum ....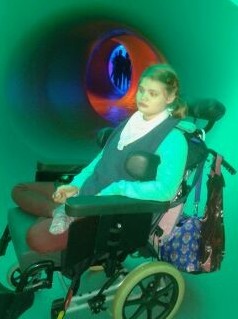 30th May 2014
Hey ... look at me, I'm in psychedelic world - I'm all green. Well, actually, I'm in something called a Luminarium. Mum and my friend Bev had taken me to the Lakeside Arts Centre in Nottingham for the Bamboozle Theatre performance. I go to see them every year in Leicester where I live, but they were doing a special performance in Nottingham as well.
I went with some of my friends and afterwards we went into this place called a Luminarium which had lots of different colours to look at and music to listen to, which apparently gives you a sense of wonder...
I did eventually end up wondering about tea-time but we all had a really good day. Overall, I think I may have had a pschedEllie experience....hmmm.!
31 March 2014
Well .... hasn't this year gone quick!! Because today I found out that it was my birthday again, which means I must be just 17. Actually, I'll be glad when it's over because dad is going round singing some silly old song by a group called The Beatles .... whoever they are...
Anyway, mum got me a nice cake with 17 candles which I took to school and shared with all my friends and they sang happy birthday to me. When I got home mum cooked me something nice to eat and then I opened my presents and cards. I have been feeling a bit grumpy over the past few days so hopefully I will feel better tomorrow ... especially if dad stops singing ! Now I am off to bed for a snooze .... goodnight!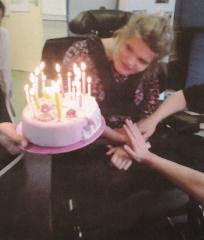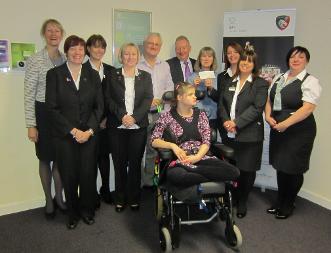 13th March 2014
"Well, who's this lot ?" .... I hear you ask. Well, this is me, mum and dad with the Spire Leicester Hospital Fundraising and Events Committee. They organise lots of fundraising for charities and last year they supported CDKL5 - remember .... that's what I've got..! They did lots of little events and raised £700 for CDKL5UK, and then had a little presentation for us today.
I wasn't very keen to have my photo taken at first but dad kept me topped up with fruit pastilles - so that was all right then wasn't it? Still, I had a nice bouncy time and although I was a bit late for school nobody seemed to mind. Thanks everyone....
6th March 2014
Well, I've been very busy which means that this is my first diary entry of 2014 so.......Happy New Year everyone. Today was World Book Day and so at school, we were allowed to go dressed as any character we wanted to be from a book.
One of my favourite books is "Where's My Teddy?" and this is me as Eddy's teddy ... Freddy. Actually, I don't know whether you have noticed but there are 2 bears in this photo ... I am the one sitting in the big chair .... just in case you weren't sure. The other one - the small one - is my teddy. His name is also Eddy ... so Eddy's teddy's name is Freddy and Elle's teddy's name is Eddy ... hmmmm .... who writes this stuff dad?? Still ... I suppose I could have been going on a bear hunt ......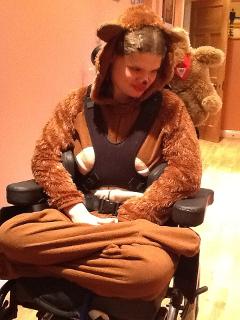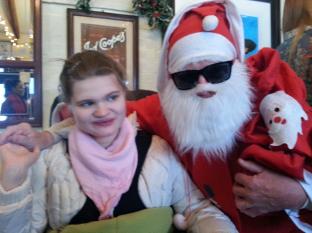 25th December 2013
Guess what?? I met the real Santa! Mum, dad and Hannah took me down to the Farm Park where dad likes to go to sip a diet coke from time to time. All of a sudden, there was Santa handing out sweets. He had just finished his world tour and had decided to pop back for a final mince pie and he still had some presents in his sack.
He came over to say hello to me and gave me a packet of really nice sweets - which I ate straight away as mum and dad never feed me enough!!! He insisted that he had his picture taken with ME and so.....this is me with Santa - he told me his real name was Kevan and asked me not to tell anyone...so I won't - it's a secret. Merry Christmas Santa, Merry Christmas Kevan (thanks) and Merry Christmas everyone...
31st October 2013
Today is something called Halloween. Apparently that's when people go around everybody else's house shouting "trick or treat" and then get given sweets. Hmmm..... I like that idea. Dad has put a big bowl of sweets by the front door, so I am hoping nobody comes round......well!
People also dress up in funny costumes looking like ghosts or monsters. Guess who this is, trying to scare Max who is too busy eating one of MY trick or treat sweets to notice.....no it's not Dad...too slim... Mum sometimes calls me a little monster, not sure why but I'm sure it does mean that I should be good at this Halloween thing, shouldn't I?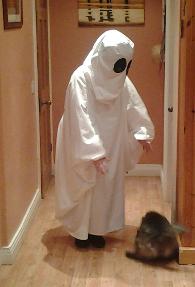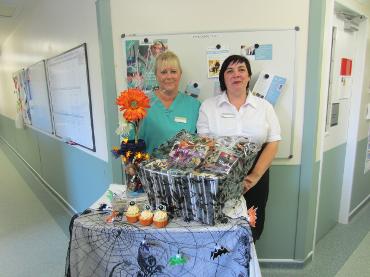 30th October 2013
Spire Hospital, which is one of the hospitals my dad works in, are supporting CDKL5 UK and some other charities. They had a raffle today and guess what, my dad forgot to buy a ticket...grrrr!
I heard that they raised lots of money and so I wanted to say a big thank you to everyone - this is Jayne and Debbie. I'm sure that at least one of the prizes included something nice to eat so dad is definitely in my bad books.... and I can get quite grumpy you know when I want to .... hmmmm ...
17th - 19th October 2013
Mum and dad went to a place called Maastricht which is in a country called Holland. There was a meeting there about a condition called Rett syndrome which is a bit like what I've got but different. There were lots of people there who are experts and also lots of families and children - all at the same meeting!!
There were also some talks on CDKL5 - which is what I do have - and dad and Carol-Anne, who is Amber's mum, had made a poster about children with CDKL5 who have problems with their tummies - like I do sometimes.
Dad wrote a report about the meeting and you can read it here if you want by clicking on this.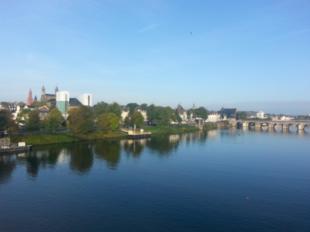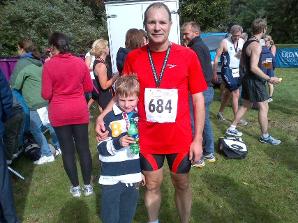 28 September 2013
Not to be outdone by his wife Rachel, David did the Hever Castle Triathlon. He also decided to raise some money for CDKL5 UK. This is David with his son Matthew after the race which he appears to have come 684th in! My dad said not bad for an old boy......he can talk!!
David has already raised over £200 - so yippee and thank you David!!
29 August 2013
We went on holiday. First we spent a week in Devon at a place called Hope Cove. I don't usually go to the beach because my wheelchair isn't very good at coping with sand, but one of the beaches had this fantastic chair with big wheels that was very easy to use - well it was for me, Dad was starting to look a little purple by the end..
Then we went to Jersey, although everyone seemed a little cross - something about missing the ferry and having to wait until the following day for the next one - who knows, but we all had a good time....and now I am back at school and I'm a big 6th former - watch out every one...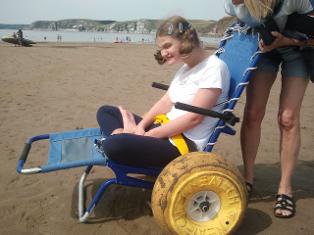 19 July 2013
Yippee...today was my last day at school and I have now broken up for the summer holidays. Actually, I really like being at school because they let me do lots of things I enjoy, like painting and cooking and eating...yes definitely eating.
They also make me work hard like sometimes trying to get me to stand. Here I am in my standing frame...you can see I am really having to concentrate even though I am strapped in.
Tomorrow my big sister Hannah comes home from her trip to Australia. We lived there for a year just after I was born when my dad got a job there. Hannah has been out there nearly a whole month and has had lots of fun by the sound of it. Perhaps one day I'll be able to go back there again....who knows...
3rd July 2013
Today was my School Prom. I wore this really nice dress that mum got for me. We went to a big hotel at a place called Ullesthorpe which is not far from where I live in Leicestershire which is in England. We had lots of photos taken in the gardens and then had cream teas.
It was all very nice and me and my school friends had a really nice time together. Everyone looked fantastic and I am hoping to have another photograph to show later..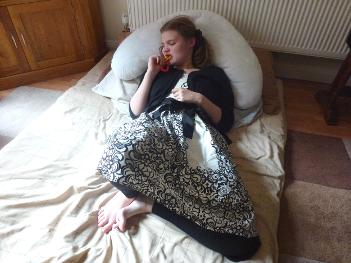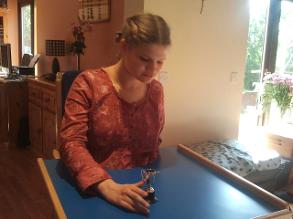 21st June 2013
I won a cup at school...yippee ! Apparently, I was very good at reaching my targets, which meant I did things like "independently manipulate sensory objects or instruments in a variety of ways" or "used both my hands within an activity to manipulate materials for up to 30 seconds" and even "reached for a desired object from a choice of two on 2 occasions". Well, aren't I the clever one!! Still, I would have preferred a box of maltesers to a cup...you can't eat a cup can you...or can you..?
16th June 2013
Today is father's day again - I'm certain that we had one of those last year too!. Mum and dad took me to our local rugby club where they were having a cider and sausage festival . Hannah was at home studying for her A-levels...whatever they are!!
We took Max with us but he wasn't allowed in and had to sit by the gate.. he was a very good dog and only barked once... or maybe twice. I can't be absolutely sure but I think that mum and me ate the sausages whilst dad just drank all the cider. This is me after I was given a little sip of cider which tasted a bit like rotten apples dissolved in old mouldy vinegar... hmm....anyone for Pimms ?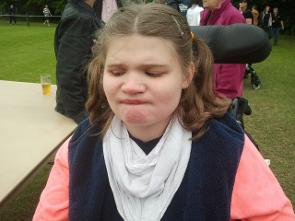 14th - 30th April
My favourite rugby team, Leicester Tigers, have been helping us raise more funds for our charity CDKL5 UK. First of all we had a matchday collection and raffle at the game against Wasps - which we won again ...yawn... and that very nice Geordan Murphy helped us draw the winning tickets for the raffle. This is Geordan with mum, Hannah, aunty Nora and some friends..I can't imagine what was so funny.... anyway we also had help from Darren and Ross Cooper, Rob and Courtney Gell, Paul and Harry Clayton, so thank you every one!!
Then the following week they had a special game between some very old rugby players who used to play many, many years ago and who really should have known better! We rescued a pair of Louise Deacon's muddy boots, put them in the washing machine to clean them up. That very nice Mr Deacon then signed them for us and we raffled them....hmmm, I wonder if I could do anything with dad's old hats!
Then we had another raffle at the supporters' players awards night and raised even more. So, at the end of the month we had raised £2580 ...yippee... and it all goes towards CDKL5 UK. Thanks to everyone who helped, I am really very bouncy and happy.... for the moment!!
4 April 2013
I had a little party with some of my friends for my birthday. Mum made lots of sandwiches and cakes .... and cups of tea, and we all sat round making lots of noise and having a nice time.
This is me with my friends Lotty, Maryam, Angela and Ben. There were some grown-up people there as well but you can't see them because they were hiding.....look carefully!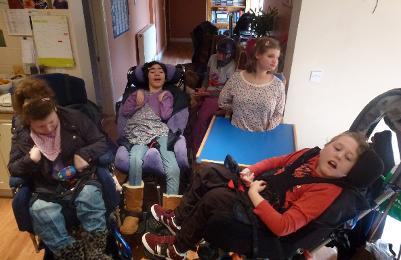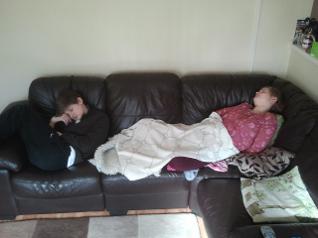 31 March 2013
Well, today is my birthday again .... I'm pretty sure I already had one last year. Anyway, I am now 16 years old. Last week was my big sister Hannah's birthday and now it's mine, so we had a big party last night although I was feeling a bit cross and didn't go. Apparently everyone was jumping up and down and dancing around ...... I think I could have been quite good at doing that, even without having a drink ..... dad!!
Still, it's pretty hard work being a 16 year old and I do need to rest up every now and then. So I thought I would have a quick snooze with my little cousin Greg (he's only 15) and then I'l be fighting fit to rock and roll all night. Look out mum and dad...
17 March 2013
Karl is the son of Bev who looks after me at school. My mum and dad told me that he had put his body on the line for CDKL5 UK by running something called the Wild Warrior Xtreme 5K obstacle race and mud run - only he ran 10K because he was having so much fun and is obviously super-fit. I thought that this sounded like something dad should be doing, but he just pointed to his knees and pulled a silly face...hmmmm.
Anyway, I want to say a big thank you to Karl who has already raised about£200 for CDKL5 UK. If you would like to sponsor Karl, you still can, by going to his JustGiving page.
This is Karl after the race with his daughter Casey. Thank you Karl....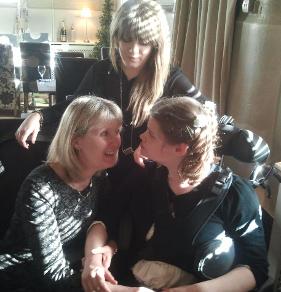 10 March 2013
Today was mother's day and it was actually snowing. We took mum out for lunch so that she could eat lots and get drunk .. oh .. sorry that's normally dad.
Anyway, we had a very nice time together and I managed to squeal and giggle most of the time because I was so happy. There were lots of other people there as well but they didn't seem to mind..I think everyone just gets used to me. So mum...happy mother's day from me and Hannah xxx
12 February 2013
Mum, dad and Hannah and some of their friends took part in a pub quiz at Leicester Tigers. This is mum, dad and Hannah with their friends, and their team was called .... "Ellie's Heroes".
I don't think their pub quiz knowledge is very good because they finished closer to the bottom of the score board than the top.
Anyway, Tigers organised a raffle for CDKL5 UK. We raffled some of the boots that dad had got the players to sign and some signed cartoons that the players had drawn…. and we raised £699. This is mum, dad and Hannah with some of the players who took part.
I wasn't allowed to go but had a really nice time at home playing with my friend Bev who looks after me at school, so I wasn't too cross…this time.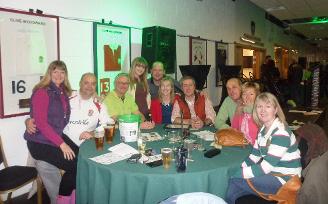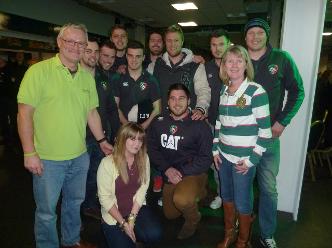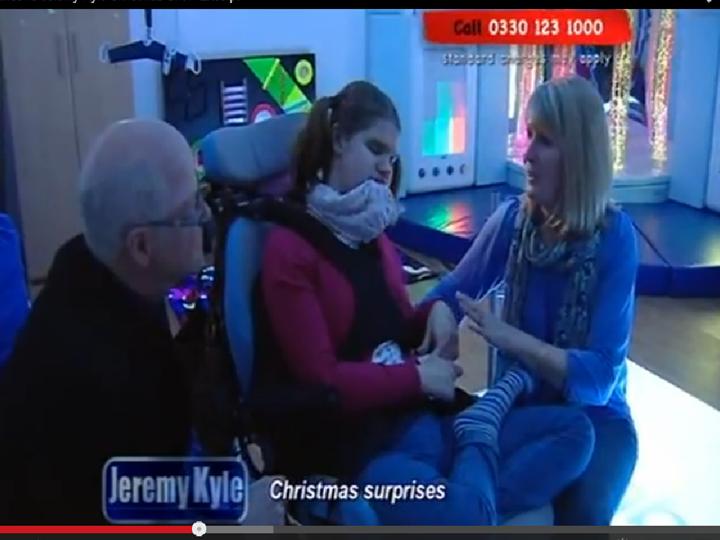 21st December 2012
Guess what...I'm a TV star. That very nice Graham Stanier from The Jeremy Kyle Show came to visit Rainbows Hospice. That's where I go to have a bit of a break from mum, dad and Hannah because they can be a bit trying sometimes!!!
They were doing a special programme for Christmas and me and mum were telling Graham how great Rainbows is at looking after me and all the other children who go there. So me and mum ended up on TV and it was great!
This is me and mum being interviewed by Graham. Mum did all the talking of course so I couldn't get a giggle or a raspberry in edgeways...next time it's my turn.
So, notoriety at last - yes I've been working hard at it for years ... and you can see the whole thing here if you want to...
9th December 2012
Leicester Tigers had a Christmas market outside the ground before their game today. Mum and Hannah raised funds for CDKL5 UK by selling signed boots from some of the players. They also had a raffle, and one of the players, someone called Steve Mafi, came to draw the winning tickets. Dad's friends, Frank and Robin, also came to help and this is Hannah helping Steve Mafi pick the winning tickets.
After the game... which we won again… mum and Hannah presented some of the raffle winners with their prizes and that very nice Mr Mafi came to help again. Apparently it was his birthday today and nobody sang happy birthday to him. That would make me very sad...and cross! Anyway, mum told me that we raised over £700… so... yippee.
So...a happy birthday and thank you to Mr Mafi, and a big thank you to all the other players who donated things to raise funds for CDKL5UK.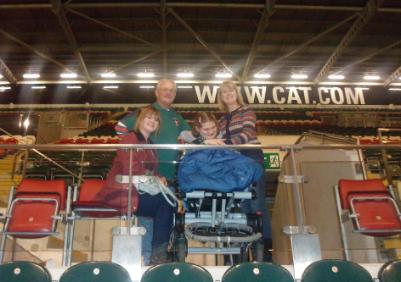 18th November 2012
I went to see my first rugby match today... well actually it was my second. Dad took me once before but it was a long time ago when someone called Jonny Wilkinson was playing for Newcastle, and I really don't remember much about it. Who is he anyway.....?
Anyway it was a brilliant day and I got very excited, especially in the bar afterwards when all the people and players came in. I was rocking so much that mum, dad and Hannah had to hold my wheelchair down to stop me bouncing away...
... and yes, we won again...
3rd November 2012
I found out that CDKL5UK had been chosen by Leicester Tigers to be one of their official charities for 2012/13. The other charities that Tigers are supporting are the Matt Hampson Foundation and Steps. I was really pleased about Steps as I went there when we first arrived in Leicester when I was very small.
The charities were announced at half-time of the game between Leicester and Northampton Saints. This is my dad with Matt Hampson who used to play rugby for Leicester. Next to Matt is Rosemary Conley CBE, who is the patron of Steps and Shaun Crate who delivered the rugby ball for the game at the start. ....... and yes we won!!!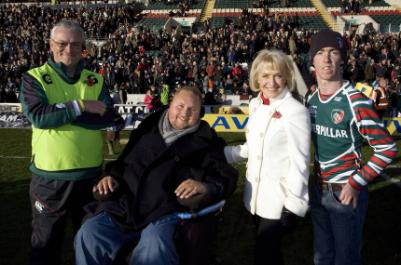 14th October 2012
Yet another big hug to Rachel who completed the second part of her fund-raising by running the Petts Wood 10k in 64 minutes. Although I wasn't snoozing this time, I was keeping mum busy by being rather bouncy. Dad was too busy playing golf to notice..... Thanks again Rachel, you can have one of my maltesers next time you are here!
8th September 2012
Today was "Tigers in the Park" day. I went to Rainbows to have a bit of a rest while mum, dad and Hannah ran a CDKL5 stand in the park. They had lots of information about me and some of my friends who are like me, and about CDKL5 UK.
They also had a tombola with lots of prizes and raised over £400. Thanks to everyone who helped - aunty Nora and aunty Margaret, my 3 cousins Maddy, Greg and Amy, and...Jane, Hannah, Katie and Sophie, Sara and Holly....and thank you to everyone who came to say hello.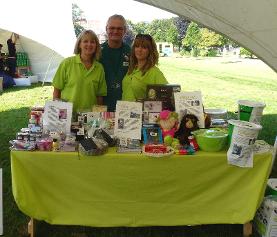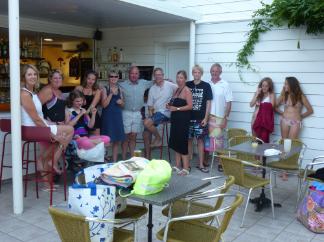 August 2012
We went on holiday in France again, and met up with lots of our nice friends from different countries. The sun was very hot and I still got a sun tan despite sitting in the shade with "factor 50" on. We were also able to watch some of the Olympics and I went swimming in the pool which was really warm. I only shouted a few times..honestly.
It was really nice to to be at Le Victoria again and here I am hosting a little drinks party at the bar for all my friends. I was a bit cross because I was only given pineapple juice to drink although mum gave me a sip of her wine while dad wasn't looking .... shhh....don't tell him!!
14th July 2012
Mum and dad took me to Bristol for the weekend. We went to a meeting organised by Rett UK, and I met lots of my friends who have the same thing as I have. I wanted to go out cruising around town in the evening but dad kept an eye on me the whole time....BORING!!!!!!!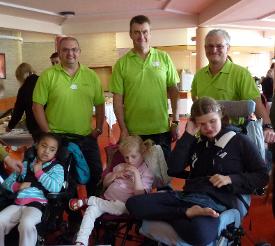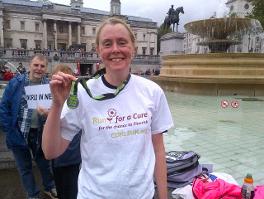 8th July 2012
Rachel and David are friends of my mum and dad. They are also godparents to my big sis Hannah. Rachel did the British 10k Run in London today in aid of CDKL5UK. She did it in 64 minutes and sprinted all the way up the last bit on Whitehall while thinking of me!! I was actually having a snooze at the time, but never mind. Anyway, big hugs and raspberries from me.....thank you Rachel!
7th July 2012
Oh dear, I've been grounded! I've broken my chair (again). I've already broken 2 other chairs with my rocking, but my chunc chair is supposed to be strong enough to cope. Unfortunately, it's now got stuck again so I can't go out today and won't be able to get to school on Monday. Hmmm...... does anyone have a tank I could borrow?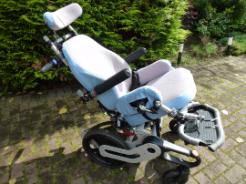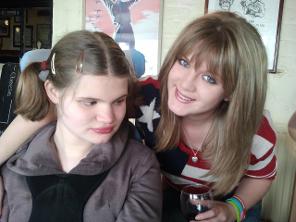 17th June 2012
My big sister, Hannah, and me took dad to his favourite local pub (we call it the Farm Park) for father's day. Mum and Max came too, of course, and when we all got home, dad spent the afternoon snoring on the settee. Well, it was father's day.
1st May 2012
Today is mum and dad's wedding anniversary. They took me to Naidex at the NEC in Birmingham. We looked at Wheelchair Adapted Cars and wheelchairs and all sorts of things they have for disabled people. There were lots of people in wheelchairs like me and I met a little girl called Izzy from Lowestoft. We had great fun looking at the lights in the multi-sensory room.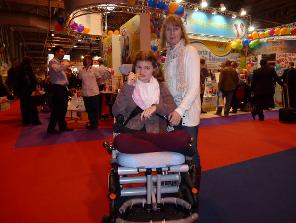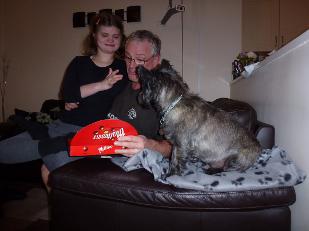 27th April 2012
CDKL5UK mums are having a bash in Manchester for the weekend, and mum and Hannah have gone to join in. So, as they say while mum's away me, Max (and dad) can do..well...whatever we want. Dad is predictably checking out the sports channel to see what time the rugby is on (yawn) and there's a big box of maltesers in the cupboard that Max and I have had our eye on for some time, so......dad!
31st March 2012
Today is my 15th birthday. I've had lots of cards from all my friends and familiy. Mum and dad organised a little party for me at home and we raised over £400 for CDKL5 research. Hugs, kisses, giggles and raspberries to everyone who came .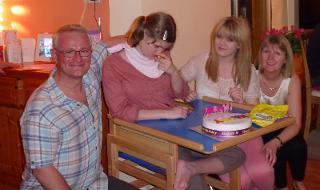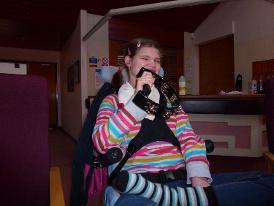 25th February 2012
Today I went to music therapy. I enjoy bashing a tambourine although it is sometime just as much fun to chew it.
5th February 2012
This was the day when mum and dad took me out for a walk in the snow. The snow was quite deep and dad had turned bright purple just pushing me up the drive...we didn't get very far. Still, it was nice to go outside in the snow for a while.